Wills Warning After Mother Forced To Sue Children To Pay Mortgage
14.07.2010
No will left Mother To Sue Children
A will dispute expert from law firm Irwin Mitchell is warning people to make sure they have up to date wills in place after a mother was forced to sue her own children to pay the mortgage on her family home.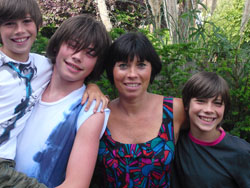 Mandy Tennant, 46, from Harrogate, was left to bring up three boys aged 6 to 14 alone and faced with a large mortgage when her husband, Adam, died suddenly whilst playing football in October 2007.
Because Mr Tennant died without a will and with no significant life insurance, his estate was divided between his wife and three children, leaving Mrs Tennant with no source of regular income and facing the prospect of losing her home.
She contacted law firm Irwin Mitchell with her concerns, who advised her that the only way to resolve the situation was to take legal action against her children.
Mrs Tennant said: "It was hard enough for us to come to terms with Adam's death, let alone having to face the prospect of being forced out of our family home because we couldn't afford the mortgage re-payments.
"I never realised this could happen. When Adam died I thought the whole process would be simple and that everything would take care of itself. Instead it turned out to be an emotionally draining experience, knowing that I was going to have to sue my own children to be able to provide for them.
"Adam would never have wanted us to end up in a situation like this. Had he been aware of the potential to end up in this situation he would have made sure his will was up to date and that he had life insurance in place."
Although Mr Tennant's estate was comparatively large in the absence of a Will, it was divided in accordance with the Intestacy Rules. In this case Mrs Tennant received part of the estate, but the other part was tied up in trust funds for her children.
Adam Draper, Associate Solicitor in Irwin Mitchell's Contentious Probate team, said: "In Mandy's case the division of assets put her in an extremely difficult financial position, where much of the money was inaccessible as it was tied up in trust funds for the children.
"It is incredibly bizarre to be left in a position where you have no other option than to issue legal proceedings against your own children. Fortunately we were able to obtain some of the funds to allow Mrs Tennant to pay the mortgage, but there are no guarantees that this will be achievable in every case.
"The whole situation would have been avoided with a valid will, and demonstrates that even when a couple is married it is important to update your will regularly. It is staggering that around 60 per cent of people in the UK do not have a will.
"The only way to guarantee that your assets are divided as you wish is to prepare a valid will and keep it up to date whenever your situation changes."